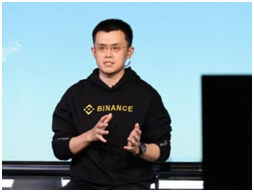 Despite the fact that Binance, the world's largest cryptocurrency exchange by trading volume, continues to enrage regulators with its business practises, CEO Changpeng Zhao stated that Ireland is part of Binance's global expansion plans.
While some countries have prohibited the site from engaging in particular operations, others have cautioned users that it is operating without a licence. In response, Zhao stated in July that he intended to repair relations with regulators and that he would abandon the company's "decentralised" structure in favour of establishing regional offices. Binance opened three subsidiaries in Ireland in September, indicating that the globetrotting exchange is slowing down.
Binance, a major cryptocurrency exchange, is considering establishing a headquarters in Ireland in response to regulatory pressure from around the world. It has functioned globally for years under a "decentralised" system, according to Changpeng Zhao (CZ), its chief executive.
Read here about Top 10 Most Promising Cryptocurrency in 2021
On September 27, Binance formed 3 divisions in the country: Binance (APAC) Holdings,Binance Technologies, and Binance (Services) Holdings, each with CZ named as the director.
"We've always stated that we don't have a corporate headquarters." "We are actually just in the process of setting up just several headquarters in various corners of the world," Zhao said in an interview. When asked if Binance's plans to develop a headquarters in a specific country included Ireland, Zhao replied, "Yes, it does." He declined to explain any additional details about the country's plans.

"From the beginning, we wanted to embrace decentralised precepts: no headquarters, worldwide work, and no boundaries. A centralised exchange, of course, necessitates a centralised, legal corporate structure."
Binance's move to improve compliance comes as officials throughout the world have imposed restrictions on the exchange's services or issued warnings to citizens about trading Bitcoin, Dogecoin and other cryptocurrencies on the unlicensed site.
Binance's corporate structure has been a mystery for a long time, according to Reuters, with its holding registered company in the Cayman Islands.
After the Chinese government initiated a crackdown on local crypto exchanges that year, Binance swiftly found itself playing regulatory arbitrage around the world. It's headquarters were swiftly relocated to Tokyo, and the company quickly expanded into Hong Kong and Taiwan.
Binance has turned its focus to Malta!
Binance announced its intention to open offices in Malta in March 2018, with Maltese Prime Minister Joseph Muscat personally congratulating the company on social media. The exchange then registered its charity and European services subsidiary in the British Virgin Islands.
Although the Malta Financial Services Authority stating in July 2018 that it was still working on a regulatory framework for crypto businesses, the exchange looked to have developed a close relationship with the local government.
Then-President of Malta Marie-Louise Coleiro Preca was nominated to the senior advisory board of both Binance Charity and the Binance-backed Blockchain Charity Foundation, and CZ regularly appeared with government officials.
The MSFA said in February 2020 that local claims stating Binance was situated in Malta were untrue, claiming that "Binance is not allowed by the MFSA to operate in the cryptocurrency arena and is therefore not subject to regulatory control by the MFSA."
Whereas the reports seemed to catch the media and crypto world off guard, CZ responded on Twitter, saying, "Nothing has changed in Malta, for Binance or any other crypto exchanges." As of now, no licences have been awarded by Malta."
The MFSA issued a further warning in July, reiterating that Binance is not licenced to operate in Malta.