On Monday morning, the global cryptocurrency market took a hit, with the price of bitcoin, the most valuable cryptocurrency, plunging below $44,000. It is presently trading at $44,068, down 7.45 percent over the previous 24 hours.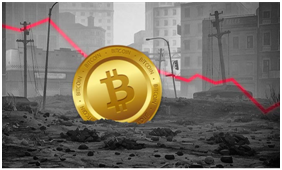 On China Evergrande Group's debt troubles, shares in Asia and Europe plummeted, while US equities futures were in the negative.
Other popular cryptocurrencies are also down.
Ethereum, the second most valuable cryptocurrency, has lost 10.3% of its value in the last day, and each ether is now worth a little over $3,000. The market value of Ether was calculated at $355.4 billion on Monday.
XRP is the greatest loss among the top ten crypto-asset market positions, having lost 13.8 percent in the last day. The 8% loss in Bitcoin (BTC) is the smallest of all the percentage losses on Monday. Etoro's crypto expert analyzed the latest market happenings shortly before BTC fell below $45K.
This comes as investors fear the consequences from Evergrande's near-collapse, a big Chinese property developer with worldwide ramifications, which spurred a sell-off of risky assets like crypto, as well as fears about prospective cryptocurrency regulation in the United States.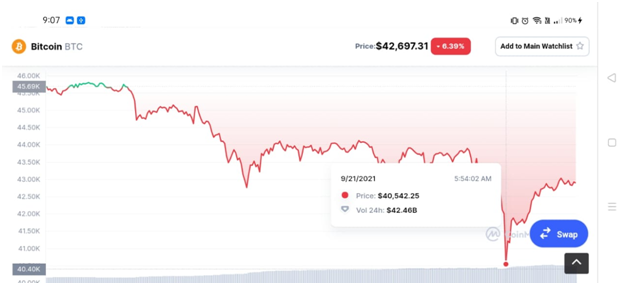 Between Sunday and Monday, the whole crypto market cap dropped more than 9% in fiat value. Nine different stablecoins are among the most often traded coins. Apart from today's stable coin action, the cosmos is the coin that has suffered the least amount of fiat loss (ATOM). Cosmos is up nearly 9% in the last seven days after losing only 0.9 percent on Monday. Algorand is the largest loser today, having lost 16.6% in the last 24 hours.
As a few indications of economic turbulence have surfaced, cryptocurrency prices have followed the dip across all global markets on Monday. News sites, for example, are reporting that the US may default on financial obligations, resulting in a new financial catastrophe.
Janet Yellen, the US Treasury Secretary, has warned of a debt ceiling crisis. Furthermore, worldwide financial markets are in the red as a result of China Evergrande's stock plummeting. Evergrande's stock fell to an 11-year low, prompting speculation that the company's demise could be compared to that of Lehman Brothers.
During the Bitcoin Price Drop, El Salvador 'buys the dip'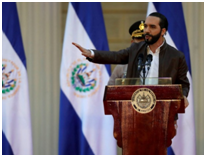 After a bullish week, El Salvador took advantage of the opportunity to purchase the dip as Bitcoin's price fell back to $45,000. Despite warnings from international institutions, the El Salvadorian government continues to embrace market options.
Salvador President Nayib Bukele tweeted that his country had "purchased the dip" when Bitcoin's price fell below $46,000 early on Monday morning. The Central American government of El Salvador now holds 700 BTC, which is equivalent to around $32 million at the time of writing.
El Salvador made history on September 7, when it became the first country to recognize Bitcoin as legal cash. At the time, the government possessed 400 BTC. After two price decreases in two weeks, El Salvador bought 150 Bitcoins, bringing its total holdings to 700 BTC.
What is causing the decline in cryptocurrency markets?
On top of their usual volatility, cryptocurrencies have recently taken several hits. The crypto market's first hints of crisis came in May when Elon Musk announced that Tesla would no longer accept Bitcoin for vehicle purchases. By mentioning currencies on Twitter or in press releases, the Tesla founder has historically caused currency values to rise. Within minutes, Bitcoin began to drop. Other cryptocurrencies immediately followed, with the value of numerous popular coins plummeting.
After detecting a "hole" in a blockchain platform, hackers took $600 million in a cryptocurrency theft in August. It followed a slew of global crackdowns on the cryptocurrency industry, as well as another major sell-off in global stock markets. The Met Police also seized approximately £180 million in July in the UK's largest-ever cryptocurrency raid. The funds were discovered as part of a large-scale investigation into money laundering. It was the highest amount of cryptocurrency seized in the United Kingdom and one of the worlds largest. The haul surpasses the previous high of £114 million, which was recovered by authorities only a few months ago.
Binance has also been outlawed in the United Kingdom, raising a big "red flag" for investors, according to Susannah Streeter, a senior investing and markets analyst at Hargreaves Lansdown. According to reports from the Financial Times, British citizens have had difficulty withdrawing and depositing funds into their Binance accounts since the prohibition.
The United Kingdom isn't the only country cracking down on cryptocurrency. In China, many crypto-mining locations are drastically decreasing their activities. Miners create new bitcoins by executing a sophisticated computer code in a time-consuming, energy-intensive process that demands a lot of computing power.
Iran has also outlawed the mining of cryptocurrencies, including Bitcoin, for over four months due to widespread blackouts and the fact that mining consumes a lot of energy. The use of cryptocurrencies for purchases was banned by Turkey's central bank in April, which dealt another major blow to coins.