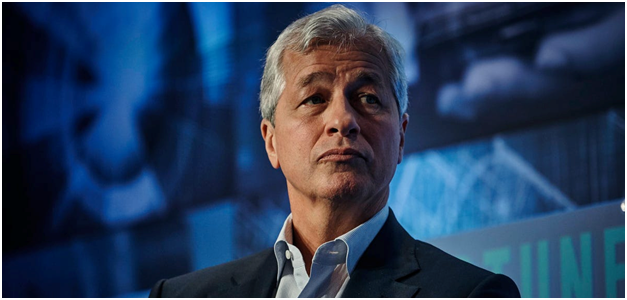 Jamie Dimon, the CEO of major investment firm JP Morgan, has long been a bitcoin and cryptocurrency skeptic. Back in September 2017, he branded Bitcoin a scam, although he later apologized. In May, he recommended Americans to "avoid" bitcoin.
Jamie Dimon reiterated his anti-bitcoin and crypto viewpoint in a Monday interview with Axios on HBO.
Dimon when questioned if bitcoin is the "future fool's gold."
"It has no intrinsic value," Jamie Dimon remarked, "and authorities will regulate the hell out of it."
Bitcoin and other cryptocurrencies have been subjected to greater regulation in recent months, with China leading the charge. The People's Bank of China announced last month that all cryptocurrency transactions are prohibited, as are services offering cryptocurrency trading and international cryptocurrency exchanges.
While Dimon believes Bitcoin will continue to exist in global markets, he has "always felt it'll be rendered illegal somewhere, as China made it illegal, so I think it's a little fool's gold."
Dimon has stated that bitcoin should be governed by the government. "They have to," he explained to VandeHei. "You can't control everything that a bank does in terms of getting money while not controlling what you'd call money," he says, referring to cryptocurrencies.
"You can call it an asset, a security, or however you want to call it, but if it's being used for sex trafficking, tax evasion, or ransomware, it'll be regulated, whether you like it or not," Dimon said.
Dimon was also questioned on his $31 million salary, which was increased in July by about $49 million in JP Morgan share options, as per the Financial Times.
"The board decides what I make," he continued."We have a free market in this nation that everyone should applaud."
Several regulators, notably Federal Reserve Chairman Jerome Powell, European Central Bank President Christine Lagarde, and Bank of England Governor Andrew Bailey, have stated that bitcoin has no fundamental value. Many people have pointed out that fiat currencies, like gold, have no intrinsic value. According to a research issued by the Federal Reserve Bank of St. Louis, "State monopolized currencies like the US dollar, Swiss franc, and euro have no basic value as well."
Recently, the United States government has placed a greater emphasis on regulating cryptocurrency marketplaces. According to The Wall Street Journal, the Biden administration revealed preparations in September to take steps and sanctions against infrastructure that aids cryptocurrency ransomware assaults.
The Securities and Exchange Commission's chairman, Gary Gensler, has also announced plans to draught a set of standards for the business on multiple occasions. However, cryptocurrency enthusiasts are sceptical of additional regulation, fearing that certain regulatory frameworks could impede crypto innovation in the United States and drive industry elsewhere.
Dimon, for one, has remained staunchly anti-crypto. "I am not a bitcoin supporter," Dimon stated in May at The Wall Street Journal CEO Council event. "I'm not interested in bitcoin. It's not something I'm interested in."However, he stated that "clients are interested, and I don't advise clients what to do."
JPMorgan Chase announced the launch of JPM Coin, a digital currency, in February 2019, and the establishment of a new unit for blockchain initiatives in October 2020. According to CNBC, it began providing its wealth management clients with access to crypto money in August.