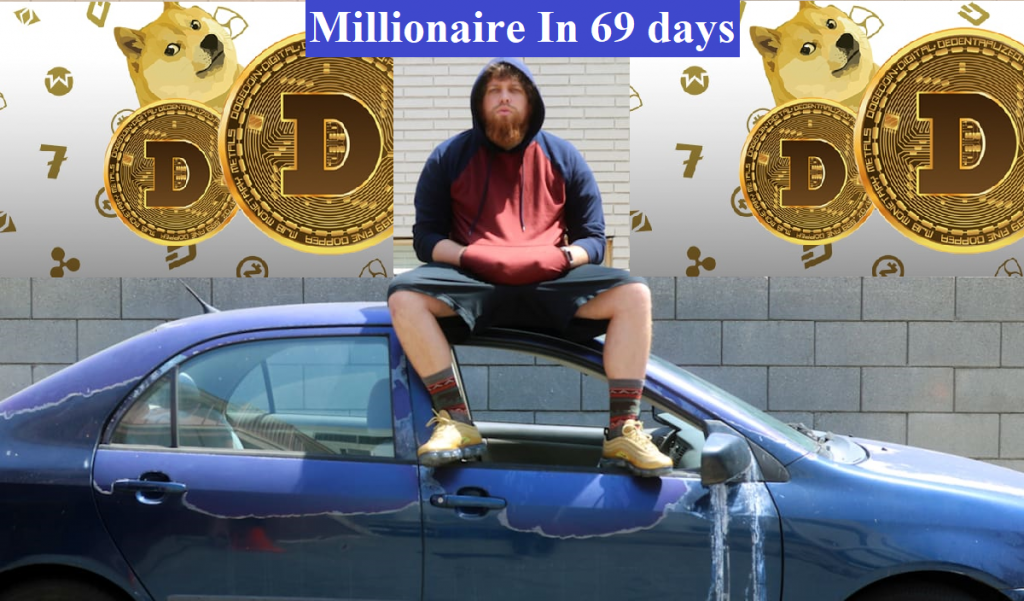 A resident of Los Angeles who was just 33 years old claims that he became a millionaire within 69 days by investing just $180,000 on the fifth day of February in the meme crypto token Dogecoin, He invested in the meme cryptocurrency when it was at the bottom ($0.045). There is a video on youtube in which he was telling that why he decided to invest in meme crypto token Dogecoin. The light-hearted meme crypto token was at its peak in the mid of April month, Dogecoin touched $0.45 on 16 April. As the result, Glauber Contessoto told in the video that his initial investment goes up to approx two million dollars approx.
As well, The experts of the cryptographic market already warned about the risk included in the digital currency investment, As the price of these cryptographic assets is highly volatile and it can easily go up and can sharply come down as they go up in the market. As well, there is no physical guarantee that the invested cash will turn into real currency, But those people who still wanted to take risks in investing can trade with meme cryptocurrency, and when the price goes up that moment can be the windfall for the investor.
In the video which was uploaded by Contessoto, He added that the CEO of Tesla, A multi-millionaire Elon Musk makes him inspired to make this move and to put his savings in meme cryptocurrency Dogecoin. Glauber Contessoto is working for a music record company located in Los Angeles and Contessoto further added that he belongs to a middle-class family, Furthermore, he added that he invested all his family savings as well sold all the stocks he and his family-owned previously, these stocks include companies like Tesla, Uber, and Amazon.
He made his transaction through Robinhood trading software as he posted screenshots of being millionaire status on the internet. Glauber Contessoto gets more than 80% votes and also has more than 5000 comments on that post, These claims are not completely verified but seem true.
What does Elon Musk do with Dogecoin?
Dogecoin was highly influenced by Tesla's CEO Elon Musk, the tweets by Elon Musk takes this meme currency on the top at its history on 15 April 2021, Musk tweeted a picture which contains a 1926 paint art in which a dog was barking at the moon, which was designed by a Spanish artist and gives the title " Doge Barking At The Moon", and refers it to the meme crypto token Dogecoin. After this move, Dogecoin went to its all-time high at $0.69.
In the second month of this year, Tesla CEO Elon Musk Welcomed meme cryptocurrency Dogecoin by making a series of tweets, through which meme crypto token went at a strange point and shocked everyone. Musk tweets a picture in which a rocket was reaching the moon and the only caption on the picture was "DOGE". Now Doge is in the list of Top 10 Most Promising Cryptocurrency in 2021
Meme crypto token was discovered by Shiba Inu which contains a Dog as its logo. This meme crypto token was the brainchild of Billy Markus and Jackson Palmer, who launched this currency as a meme in the year 2013 to avoid bank trading fees and with this, it was launched at $0.0000232.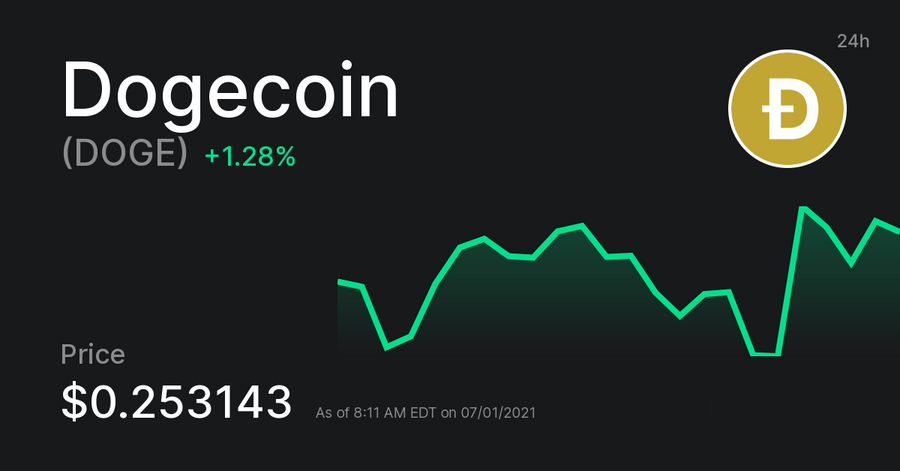 However, After reaching the top in April, went through many ups and downs in the same year, As of today (Thursday), At the time of writing this, Meme cryptocurrency Dogecoin valued at $0.2515.