Wealth management firm Vaneck has requested for a publicly traded Bitcoin Futures Fund (ETF) after the statements of Gary Gensler to the SEC (Security and Exchange Commission.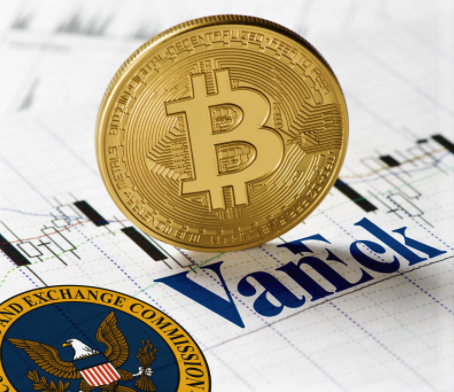 Vaneck is applying for a Bitcoin future-focused fund called the Bitcoin Futures Strategy ETF.
Asset management company Vaneck applied for listing with the SEC on August 10th for the 'Bitcoin Strategy ETF', which is the fund that pursues 'capital growth'. This fund will be an actively managed ETF using Bitcoin Future, a combined investment vehicle, and other ETFs that allow exposure to Bitcoin (BTC).
Vaneck's most recent Bitcoin ETF presentation emphasizes that "the fund does not invest directly in Bitcoin or other digital assets." Bitcoin Strategy ETFs use Bitcoin Futures under Cayman Islands law and it will invest in ETFs and other exchange-traded products listed in Canada.
Currently Vaneck has $63 billion in assets under management (AUM) and it is actively trading in BTC. Vaneck applied to establish a Bitcoin ​​mutual fund with US regulators at the end of June, and the company hopes to also get approval for another bitcoin ​​ETF submitted in December 2020.
Vaneck also plans to continue offering an Ethereum (ETH) exchange-traded fund. Gary Gensler, the chairman of SEC stated the regulatory framework to regulate the crypto ETFs. Gensler's statement appeared optimistic about crypto ETFs, as he expected employees to review such submissions, especially if limited to CME-traded Bitcoin futures.
Vaneck's manager Gabor Gurbacs tweeted about the ETF submission on Tuesday, he noted that "the company was the first company to apply for a futures-based bitcoin ETF in 2017." Industry insiders believe that CME Bitcoin futures have been regulated for quite some time and that is based on Gensler's latest statement, the Bitcoin Futures ETF could gain initial approval.
Gensler said he expects regulators to review ETFs specifically related to Bitcoin future, noting that the US Investment Companies Act of 1940 was potentially sufficient for regulation.
Vaneck's Bitcoin Strategy stated that the fund is not differentiated under Investment Company Act 1940, thus it can invest higher percentage. She wrote to Senator Elizabeth Warren about her concerns about cryptocurrency regulation.
What are your thoughts on Vaneck's recent crypto ETF presentation?