Cardano Coin Price Prediction in 2021
The crypto markets have performed extremely well in 2021. Following government lockdowns during the COVID-19 pandemic, crypto adoption skyrocketed throughout 2020 as individuals and institutions leveraged cryptocurrencies and other blockchain-based products. This momentum has built into 2021 with the total market cap soaring over 650% to $2.024 trillion in the past year. Although Bitcoin's (BTC) performance is often synonymous with that of the crypto market, some altcoins remained resilient as BTC dipped. One of the projects that have performed exemplarily is Cardano (ADA).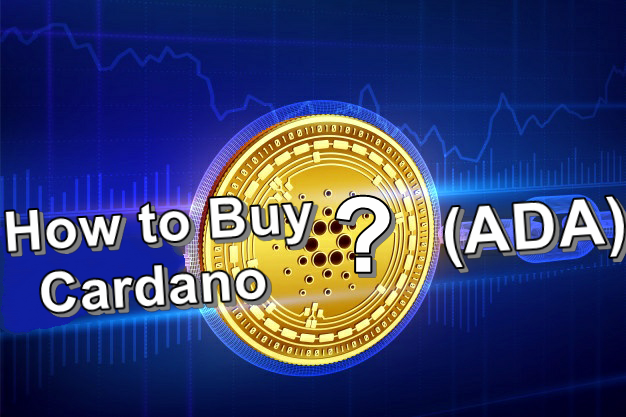 Here is How to Buy Cardano:
Create an Exchange Account
To get started on buying Cardano (ADA), you need to create an account with one of the many exchanges that support ADA. Creating an exchange account will require you to fill in some personal information, including your official names, current address, a copy of your ID, email, and phone number. Select the best exchange among these
A certain number of wallets allow the storage of ADA tokens. We are thinking in particular of Cardano's Daedalus wallet. Other solutions like Yoroi, Infinito or Coinswitch can be considered. If you want to store on a cold wallet, ADA tokens can be stored on a Ledger device.
Before 2021, Cardano's all-time high (ATH) came during late 2017 to early 2018 bullish crypto market, where ADA reached $1.16. Since then, the coin's value slumped and barely crossed $0.14. As with other cryptocurrencies, altcoin picked pace in 2020 and caught the attention of more crypto enthusiasts, investors and traders. But, how long would ADA's price rally last? What will be the price of ADA for the rest of the year? Is it worth investing in? Let's get started-:

What is Cardano?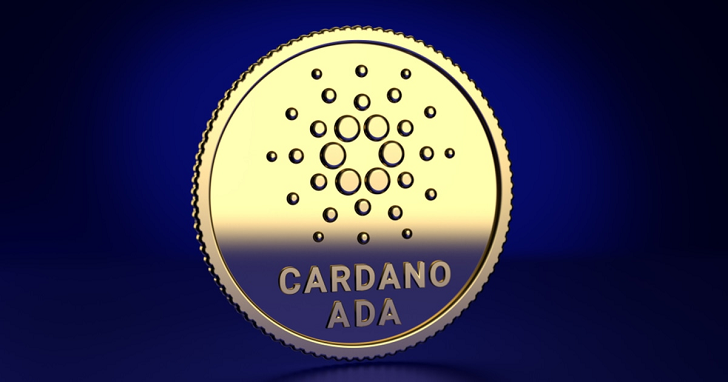 Launched in 2017, Cardano is an open-source project that works to decentralize power from unaccountable systems to peers, creating a more secure, transparent, and fair society. Cardano deploys the proof-of-stake (PoS) consensus mechanism for its blockchain. The third-generation blockchain is the brainchild of Ethereum co-founder Charles Hoskinson and has multiple applications, including in finance and supply chain. Holders of Cardano's native token, ADA, can vote on suggestions regarding the network's future. Hence, ADA holders participate in the network's operation. In just four years, the project has risen to rank fourth among cryptocurrencies by market cap currently over $69 billion.
Latest Price Trend: Onwards and Upwards
At the start of 2021, ADA was trading at $0.18. Its value rose steadily through January to surpass the $1.00 mark the following month. While the coin has been bullish throughout the year, ADA rose sharply in May. In just two weeks, ADA rose above $2.00 after opening the month at $1.33. On Sunday, May 16, ADA reached a new ATH of $2.42 and trades at $2.10 as at 05:40 GMT Monday, May 17. This surge represents an over 800% increase since the beginning of the year alone.
Evidently, the crypto market has generally been on an upward trend fueled by decentralized finance (Defi) protocols, non-fungible tokens (NFTs), and an overall increase in cryptocurrency adoption. In the past month, however, ADA has had additional factors driving the price rally. The project announced partnerships with different institutions including the Ethiopian government, where Cardano will assist the government to revamp its educational sector to go digital. These strategic partnerships have excited many investors who forecast potential gains into the future.
ADA has demonstrated the price rally with a stellar performance in the past 7 days. Unlike BTC, Ethereum (ETH), Binance Coin (BNB), and Dogecoin (DOGE) whose value slumped in the past week, ADA has soared to a new ATH within the same period and is steady around the $2.00 mark.

ADA Price History
Pending Ethereum's upgrade to Eth2, Cardano remains the largest blockchain network deploying the PoS consensus model. Also, compared to bitcoin's energy-intensive proof-of-work (PoW) consensus algorithm, Cardano'senergy-conserving and cost-effective pos make it a superior alternative. The painstaking ETH2 upgrade is set to take multiple years to be fully rolled out. On the other hand, Cardano has been adding improvements to its network, and in 2020, integrated an upgrade to make its blockchain at least 50 times more decentralized.
Built on the foundations of peer-reviewed research, Cardano is seemingly a step ahead of the two largest cryptocurrencies and their blockchain networks. After a fairly dull period, between 2018 and 2020, traders are catching on the opportunity ADA presents them. Here's how ADA has performed through the years:
2017: The Perfect Start
Between 2015 and 2017, Cardano carried public sales five times, raising over $60 million during the ICO. The ICO performed well, given the influx of ICOs in 2017. These funds assisted in development projects for Cardano. Within one week of the launch, ADA reached a $600 million market cap. The soaring value made ADA an instant hit among crypto investors looking for the next best opportunity. ADA's remarkable market entry coincided with the bullish crypto markets in the last quarter of 2017, capping its successful launch. After the launch, many top cryptocurrency exchanges listed ADA. By the start of December 2017, the token had surpassed the $3 billion market cap.
2018: Down the Slide
Throughout December 2017, ADA skyrocketed to reach the then ATH of $1.16 in the first week of January 2018. In the bear market that followed through in the first quarter of 2018, ADA's price fell off the cliff to settle around $0.14. The rest of the year, as crypto markets remained bearish, ADA fell under 10 cents, closing the year at $0.04.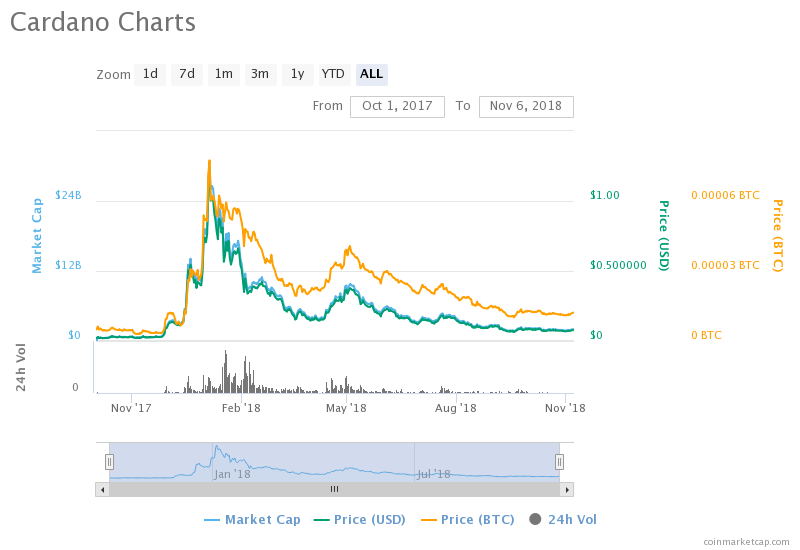 2019:Ups and Downs
While 2018 was marked by a short-lived rally and a price dip throughout the year, 2019's first half brought a little better news for Cardano. After a dull start into the new year, ADA eventually started soaring in the first week of March 2018. The token eventually reached $0.10 a month later for the first time since August 2018 as investors bought more ADA. The token struggled to break the $0.10 resistance and by the end of June, ADA topped $0.11. However, sellers immediately sold off their ADA tokens and the coin's value fell drastically through the second half of the year to close at a solid $0.03.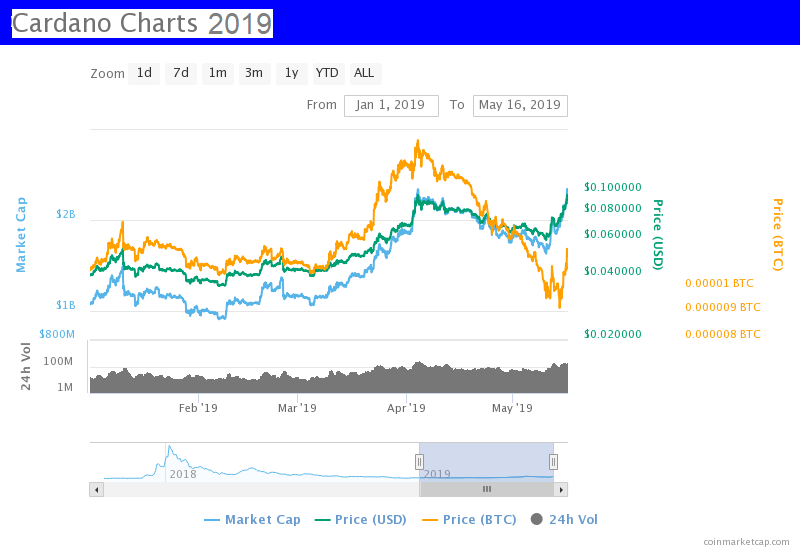 2020:To The Moon
Early into 2020, ADA remained fairly stable at $0.03 before setting out at the start of the third week. The slow price rise lasted a month, where ADA reached $0.71. Afterward, the price tumbled for about two months as the coronavirus pandemic escalated. At one time, during the pandemic, ADA traded at $0.02. Then, starting May 2020, crypto markets started to rebound from the coronavirus-triggered crash. Governments started issuing stimulus checks which some people used to purchase cryptocurrencies. Also, some institutions started to integrate crypto payment methods. The news reverberated through the crypto community, which became more convinced about the future of the crypto as the dominant in the finance industry. ADA broke the resistance at $0.10 at the start of July and remained bullish for the rest of 2020 to close above $0.15.
Why Cardano Is Rising in 2021
When Elon Musk termed Dogecoin 'a hustle' during his Saturday Night Live (SNL) appearance on May 8, the meme coin slumped from its ATH of $0.76 to under $0.45 within hours. About a week later, the Tesla chief revealed that the electric automaker would halt receiving payments in BTC for Tesla products. This was against the backdrop of a May 11 Twitter poll by Musk on whether users would fancy Tesla accepting DOGE. The news sent BTC and ETH prices spiraling out of control and losing in double-digit points. ETH alone fell from an ATH over $4,000 to $3,400 today. Amid the turbulence, Cardano has maintained its price rally even in the past week as of May 17.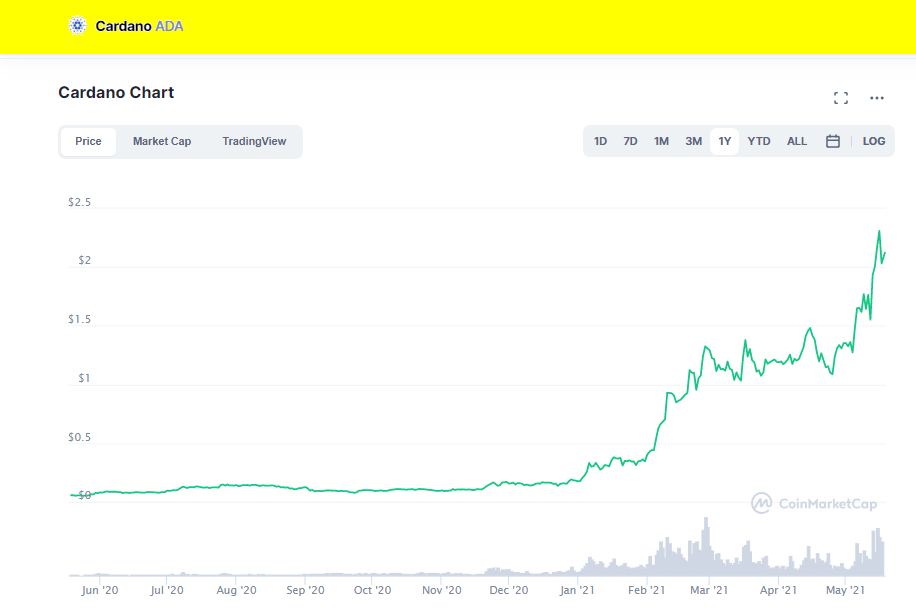 Musk's bombshell that dropped shockwaves throughout the crypto market argued that BTC mining was degrading the environment. This statement by Tesla refers to the high-power consumption by BTC miners for its PoW algorithm. Many traders thus resorted to sell as fear, uncertainty and doubt (FUD) spread through the crypto community, some fearing Tesla would sell all the BTC it currently holds (about 38,300 BTC as of May 2021). ETH, which predominantly uses PoW but plans to upgrade to PoS, also suffered as prices plummeted. While others fell, ADA rose to a new ATH and has been rather solid, save for a few variances.
Cardano's ADA is the most dominant green coin – a cryptocurrency that is friendlier to the environment. When Musk unmasked the need for environmental conservation through Tesla's BTC stance, ADA stood out as the go-to choice for traders. Most likely, this made many investors rush to invest in ADA and other green coins. ADA's PoS consensus mechanism makes the process of mining ADA energy-efficient, and its dominance in this category makes it the most preferred choice for investors.
Institution-Level Partnerships Driving ADA Price Up
The Cardano blockchain is programmable and can perform functions similar to that of Ethereum. One salient feature of Cardano is that the blockchain is developed based on peer-reviewed scientific research. This ensures that each additional upgrade is useful and scalable thereby improving the network performance. Developers on the Cardano platform have been developing enterprise-grade decentralized apps (dApps) and their underlying smart contracts. Among their products for enterprise applications are Atala TRACE, Atala PRISM, and Atala SCAN. These products are leveraged in tracking the supply chain and identity management.
Cardano's solutions for today's businesses have also contributed to the excellent price-performance today. These dApps use ADA as their utility tokens and as they are adopted by businesses, the potential for ADA demand will be inevitable. As such, investors also see ADA's value proposition for providing real market value through its apps as a great selling point for the coin. Capping this is Cardano's April 2021 deal with Ethiopia's Ministry of Education, where IOHK – the company behind Cardano – plans to build a blockchain-based system for digitizing the country's education system. Such partnerships also boost the project's reputation among investors and make it an attractive investment choice.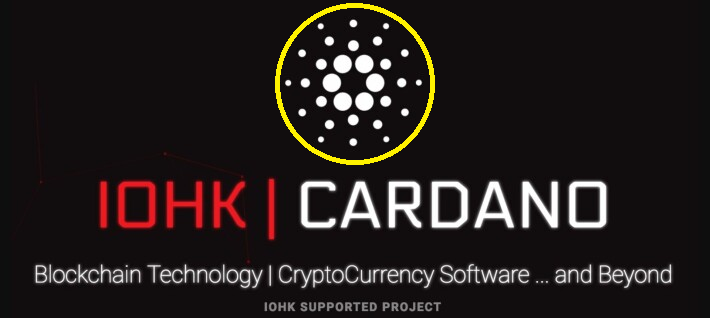 Cardano Price Prediction for 2021
Today's crypto market is heavily influenced by news and speculation. Musk's comments regarding the carbon footprint of BTC will likely be picked up by mainstream media and even social media users. These comments, as is the case already, will cause more FUD and make users dump PoW coins for green coins. Cardano is a green coin, and with the current awareness of the environmental impact of PoW-based coins, the coin will outperform its counterparts in the short term. With seven months or so left to the end of 2021, ADA's stage to shine is well set after the year's excellent first-half performance.
Cardano's price today can well be attributed to its own efforts and the market shift towards more sustainable blockchains. For the latter, the platform's PoS protocol known as Ouroboros is billed as environmentally sustainable and verifiably secure. For the former, Cardano's meticulous development team ensures all technology is thoroughly reviewed by peers and bold suggestions challenged. This painstaking process ensures that the blockchain is stable and durable. And investors are looking not only for a green coin, but one that is well-established and tested, like ADA.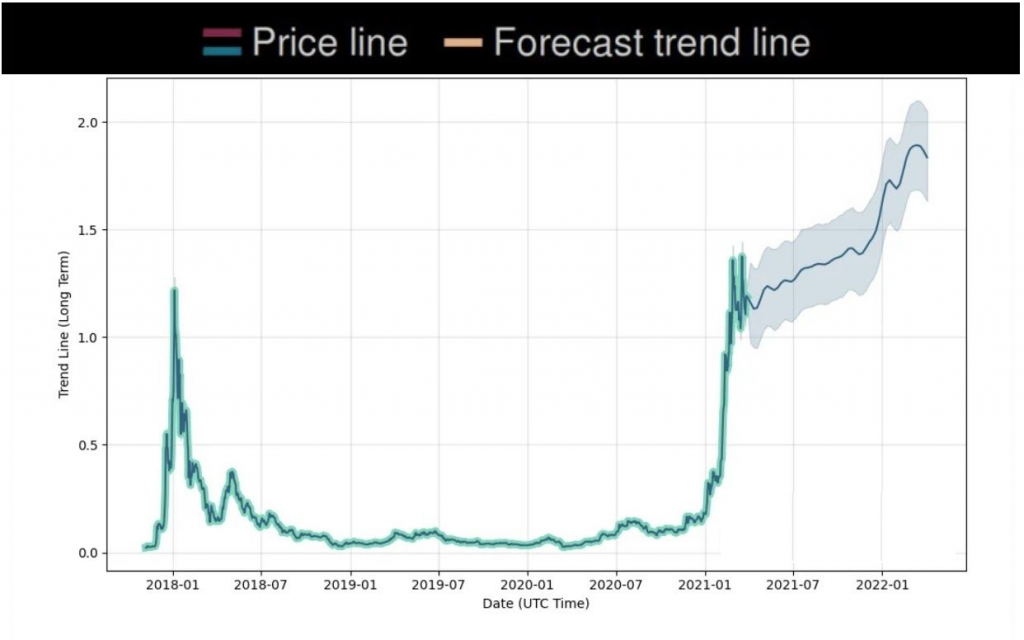 Cardano Predictions from Top Crypto Forecasts
WalletInvestor
Crypto forecast website, WalletInvestor, predicts that ADA will remain bullish for the rest of 2021, with the green coin rising past the $2.50 mark before June 2021. The website also forecasts the coin will close the year just under $3.0 and break the resistance in January 2022.
TradingBeasts
TradingBeasts' 2021 prediction for Cardano illustrates a bullish ADA through the remaining months. The forecast predicts ADA will reach $2.62 by June 2021 and gradually climb to $2.72 by November 2021. TradingBeasts also predicts that ADA's price will plummet to close the year at $1.91.
Smartereum
Forecasts by Smartereum predict ADA will remain solid at $2.50 by the end of 2021, potentially reaching $10 by 2025.
Coinpedia
One of the boldest predictions is by Coinpedia. The website forecasts that ADA will close 2021 between $5.00 and $7.00, basing this meteoric rise on Cardano's game-changing blockchain solutions. Coinpedia, however, allows room for negative perceptions which could disrupt ADA's price rally.
Our Cardano Price Prediction
In these highly speculative crypto markets, ADA has become the favorite altcoin as most cryptocurrencies plummet through the third week of May 2021. Despite not getting mainstream attention from any pro-crypto personalities, the coin has become an investor's favorite as traders look for coins with the most potential while still being friendly to the environment. This rising energy-consumption awareness will run through the foreseeable future (the rest of 2021), therefore ADA will remain solid above $2.80 through the year. Also, more investors will rush to buy the dips in BTC, ETH, and other coins, which could create a price rally and build even more momentum for ADA to perform better.
Cardano Community
Cardano has one of crypto's most active forums across the ecosystem. Cardano's community comprises enthusiasts discussing all aspects of the project, from its network updates, latest collaborations, news, or milestones reached. The project's most active forums are the Cardano Forum and Reddit. These platforms are also a good place for you to learn the mood of investors and know how confident they are about ADA. That way, you can also predict how well ADA will perform in the short term. Cardano also boasts of a secure, simple, mobile, and fast self-custody wallet for your ADA. These perks make the project even more attractive for investors.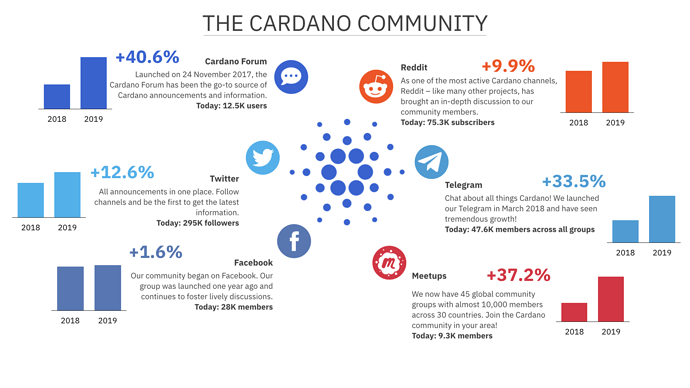 Tokenomics and How to Buy Cardano (ADA)
The maximum supply of ADA is 45 billion and currently, about 31.95 billion ADA are in circulation. The token is popular in Japan and has been nicknamed the Japanese Ethereum. Since its launch in 2017, ADA has been listed in many top crypto exchanges.